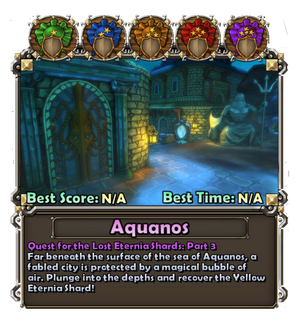 Aquanos is a shard map that was released as part of the Part 3: Aquanos DLC on 26 April 2012.
The map is an underwater city with Sharken, Fish Wyverns and a Kraken boss.
Gameplay
This abandoned underwater city has three Eternia Crystals to defend. There are color-coded framed portals players can use for fast travel to different parts of the map.
The Sharken are menacing creatures. They attempt to push non-minion physical defenses. This enemy type can plow straight through traditional blockades without having to destroy such defenses. However, while charging or winding up, they can be dazed, stunned from taking a certain percent of their max HP in direct damage or by the likes of a Gas Trap or Shock Beam.
Two Seahorses and Snails are present on the map as interactable. They can be "Pet" once per wave, dropping extra mana. They may also fully heal the player and/or deposit an item directly into their item box.
NPC Locations
Seahorse 1: In a corner near the southeast enemy spawn door.
Seahorse 2: In a corner beside the walkway leading up to the northeast core. There is also a Treasure Chest next to it.
First Sea Snail 1: To the left of the forge.
Second Sea Snail 2: In a corner between the northeast spawn door and the middle core, where Goblin Copters may attempt to drop off their Ogres (the copters only spawn on Nightmare and Ascension).
Boss Fight
Main Article: Kraken
A cephalopod monster known as the Kraken arrives along the northern edge of the map. It seems invincible at first when in reality, players have to destroy all of its tentacles before they can deplete the monster's health bar. Purple damage numbers will appear underneath the Kraken's head from damage dealt to the tentacles.
Over the course of the battle, the city floods, gradually slowing heroes and defenses. This fortunately does not set a hard timer to kill the Kraken an instant loss.
Rewards
Weapons
Easy-Hard
Insane-Nightmare
*On Ascension Campaign, a weapon from the Easy-Hard pool is also obtained.
Costumes
Survival Pets
Eternia Shard
Strategies
Notes
Trivia
Prior to the release of The Tinkerer's Lab on PC, this map was a very popular place to level up heroes.
Aquanos is based on the lost underwater city of Atlantis. This is made apparent by it sharing the same aforementioned status. Two statues of presumably the Greek god Poseidon holding a trident are also present.
Media
See Also
The other shard maps.
Map Details