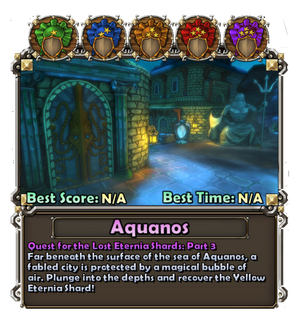 The
Aquanos
map was released as part of the
Part 3: Aquanos
DLC on 26 April 2012.
The map is a large underwater town with new mobs; Sharken, Fish Wyvern, and the new Kraken boss.
Similar to Moraggo Desert Town, the map features colored portals which allow players to quickly travel across key points of the large-sized map.
Seahorses and Snails are scattered across the map. They act similar to treasure chests. They can be "Pet" once per round, and drop mana. As well, they may heal your hero or deposit an item directly into your item box. The items quality changes by the difficulty of the map.
Rewards
Costumes
Pets
Not on console
Items
Players are awarded a class weapon and a random piece of armor. The potential quality of both items is dependent on the attempted difficulty.
Eternia Shard
Notes
Strategies
Media
Map Details
Community content is available under
CC-BY-SA
unless otherwise noted.