PC Only Content
Information on this page is PC specific.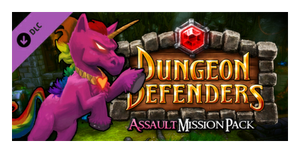 The
Assault Challenge Pack
is
downloadable content
released for the PC on January 31, 2012. It contains 3 Assault missions similar to the
original
challenge at the Endless Spires.
Assault is a challenge where the party must destroy all Eternia Crystals instead of protecting them. It takes place on several maps, features a static collection of defenses and enemies, and offers a few different routes.
Almost all of the party's ranged attacks are restricted to a maximum distance of about 2-3 meters. Each challenge in this pack currently has a few bugs, such as enemies sometimes remain after level victory, and enemies can attack players while the map's introduction sequence is still playing.
Promotional Description
In addition to the new maps and enemies, hero speed is reduced when playing on Nightmare difficulty.
"Done defending and ready to attack? This Dungeon Defenders Mission Pack contains 3 new assault missions for you to tackle with your friends as well as new weapons and a unique pet that can only be obtained by beating these missions!"
- Steam[1]
Rewards
| | |
| --- | --- |
| Difficulty | Mana Reward |
| Easy | 100,000 |
| Medium | 1,000,000 |
| Hard | 4,000,000 |
| Insane | 9,000,000 |
| Nightmare | 9,000,000 |
Upon returning to the Tavern after completing all 3 parts consecutively on a given difficulty, a Rainbow Unicorn is added to the item box, in addition to a mana reward, depending on the difficulty.
NOTE: You must return to your own tavern.
As with all challenges, attempting Assault on harder difficulties will yield a better quality challenge reward.
However the Retribution rewarded on Nightmare can have any random amount of maximum upgrades, from 8 (possibly lower) - 254. The Rainbow Unicorn works in about the same way, where often the reward on Nightmare or Insane is the same quality as Medium or Hard.
History
Media
Community content is available under
CC-BY-SA
unless otherwise noted.