PC Only Content
Information on this page is PC specific.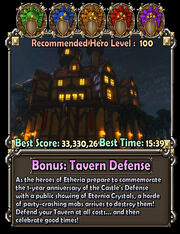 The Bonus: Tavern Defense was released on 16th October 201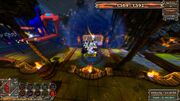 2, as part of the
Anniversary Pack DLC
, and is seen by many as the hardest map of the game. The map is located in and around the
Tavern
.
Gameplay
This map features two Eternia Crystals, one inside the tavern at the same location as in the normal tavern and one on the outside.
Waves
The level starts at wave 7 and ends at wave 14, making the total number of waves eight. After completing these eight waves the three bosses appear after a countdown of only three seconds, rather than the usual 15.
The bosses of this level are: Mega Cupid, Mega Snowman and Mega Turkey, three bosses released before in previous DLCs.
Rewards
Items
Pets
Notes
The Tavern secret room is removed on this map; however, its door can be sill be walked through, and allows players to walk outside the map.

On Pure Strategy it will say "An Ogre has arrived" however no Ogres will spawn.

Upon reaching 15 in either Pure Strategy or Survival, a message is displayed, saying, "Keep going... you can do it, work that treadmill!!!"
Map Details
Community content is available under
CC-BY-SA
unless otherwise noted.