PC Only Content
Information on this page is PC specific.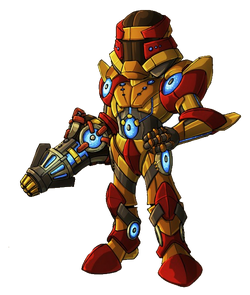 The
Bounty Hunter Costume
is a hero
costume
for the
Series EV
.
It can be obtained by completing the City in the Cliffs campaign map on Medium or harder difficulty. It can be earned by any Hero type.
Notes
Trivia
The default colour scheme is a reference to Samus Aran from the Metroid Series.
The design of the costume appears to based on a combination of Samus Aran from the Metroid Series and Boba Fett from the Star Wars franchise.
Series EV's Costumes
Media
Community content is available under
CC-BY-SA
unless otherwise noted.