PC Only Content
Information on this page is PC specific.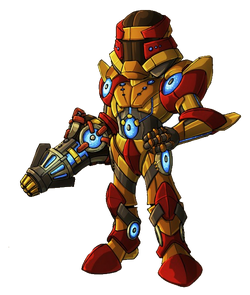 The
Bounty Hunter Costume
is a hero
costume
for the
Series EV
.
It can be obtained by completing the City in the Cliffs campaign map on Medium or harder difficulty. It can be earned by any Hero type.
Notes
A second "jetpacking" version (similar to the Outlander Costume) of the Bounty Hunter Costume is unlocked by attaining the Transcendent Survivalist achievement.
The default colour scheme is a reference to Samus Aran from the Metroid Series.
The design of the costume appears to based on a combination of Samus Aran from the Metroid Series and Boba Fett from the Star Wars franchise.
Series EV's Costumes
Media
Community content is available under
CC-BY-SA
unless otherwise noted.