PC Only Content
Information on this page is PC specific.
The Candelabra is a Monk weapon. It is a random drop obtained from the Halloween Spooktacular! challenge, all Uber Monster Fest challenges, City in the Cliffs, Karathiki Jungle, Moraggo Desert Town or Mistymire Forest.
This weapon adds heroic fire damage to both its melee and ranged attacks.
Notes
Other names include: Candle Spear.
The dreidel on the tip of the spear is animated to rotate on its center. The weapon's projectiles also possess a distinct bullseye pattern. This is purely cosmetic.
Related Items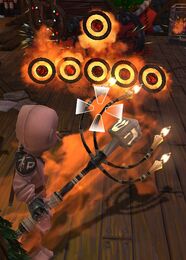 Community content is available under
CC-BY-SA
unless otherwise noted.