PC Only Content
Information on this page is PC specific.
The Cardboard Tube is a Monk weapon. It is added with the Penny Arcade Character Pack DLC.
Unlike other Monk weapons, the Cardboard Tube may fire up to 7 projectiles in one flat plane.
Notes
Based off the Penny Arcade character Cardboard Tube Samurai's signature weapon.
It's ranged projectiles also possess a distinct throwing star appearance. This is purely cosmetic.
Possesses a very low item generation rate, both in-game and within the Tavern Shop,[1] except for in The Tinkerer's Lab where multiple tubes tend to drop every wave there's a character present who can use Monk weapons. It can also be one of several random rewards for completing said campaign map.
Related Items
Media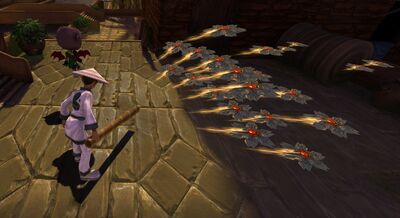 Community content is available under
CC-BY-SA
unless otherwise noted.