PC Only Content
Information on this page is PC specific.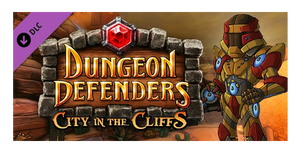 The
City in the Cliffs Mission Pack
is
downloadable content
for the PC that was released on 13 April 2012.
It contains a 6-player City in the Cliffs Campaign map and Uber Death From Above challenge, the Djinnlet pet, male Bounty Hunter Costume and Jetpacking Bounty Hunter Costume for the Series EV, and four new weapons.
Promotional Description
An isolated Moraggan outpost has now become a warzone as the horde lays siege to its Eternia Crystals... Good thing the Bounty Hunter has appeared to protect it.
-Steam[1]
Notes
The DLC was on sale for a limited time upon its PC release. It is priced (not including sales) at $1.99 USD on Steam.
Media
Community content is available under
CC-BY-SA
unless otherwise noted.