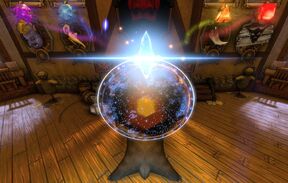 The Crystalline Dimension is a mysterious world located in another dimension, far from Etheria itself. It is the location of the captured legendary heroes, the heroes'
parents
.
This map features several enhanced enemies, as well as crystalline manifestations of the heroes & every boss encountered throughout the main campaign from the Quest for the Lost Eternia Shards maps (excluing the Goblin Battlecrusier.)
After defeating all crystalline boss monsters, the Old One appears and must be defeated in order for the heroes to reunite with their parents.
Access
Players can access the Crystal Dimension through a portal in the Tavern. The portal will only spawn after the player collects all four Lost Eternia Shards: Purple (Mistymire Forest), Blue (Moraggo Desert Town), Yellow (Aquanos) and Red (Sky City).
Story
This article or section contains spoilers.

Please do not read if you wish to not know!
Intro Cinematic
"With all four Eternia Shards collected, the team holds them up to the sunlight, and the crystal fragments begin to float into the air, moving towards each other.
In a flash of light they merge, to reveal a large, twisted purple Eternia Crystal, with a swirling portal of energy around it! A voice emanatets from the black abyss.
You have come far in seeking your parents, little children. It is time now that you entered the portal as they did and face your destiny! Shocked at this turn of events, the group consults with each other... what must this mean? What is inside this Eternia Crystal?
Could their legendary predecessors really be inside? Putting aside any fear and doubt, the heroes agree: they must investigate! The champions take a moment to prepare themselves for what may lie ahead. Ready together before this ultimate challenge, the team of heroes prepare to enter the vortex before them, and though they may be little, stand tall before whatever dangers await inside!"
Rewards
The most "wanted" reward are the Legendary skins, and its alternative the Super Legendary skin. You get the Class-Specific skin whenever you kill the Old One. If you kill him on any difficulty (Even easy, which is the easiest way if your just farming the legendary skins) And for the Super Legendary skins you have to beat it on Nightmare, with hardcore enabled.
Weapons:
Costumes
Completing this unlockable map by defeating the Old One boss on Nightmare Hardcore will unlock a new class-specific Super Legendary Hero costume. (To enable hardcore mode, complete all of the eternia shard maps on nightmare hardcore mode to unlock it.)
Completing this map on any difficulty mode enabled unlocks a class specific Legendary hero costume.
Glitches
When you place a Turret on the Final boss map it can cause you to continuesly fall through the Raising platform and die continuously
Media
Levels
Players will face several waves of enemies on different planes of the Crystalline Dimension.