PC Only Content
Information on this page is PC specific.
The
Halloween Spooktacular!
challenge
was released on 28th October 2011, as part of the
Halloween Mission Pack
DLC
.
The map is a Halloween-themed version of The Ramparts campaign map.
The goal of the challenge is to defend all three Eternia crystals from Halloween-themed enemy waves of increasing difficulty.
Gameplay
Unlike the original map, one of the crystals has been moved to the north and 4 more spawn points have been added to the map. There are a total of 11 waves in this map. In the subsequent waves after the first wave, there is a message stating that one of the creatures is trick or treating. This means that the particular creature will spawn in significantly large numbers from any spawn point during that wave.
Particularly beware of "trick or treat" waves with the Mini Ogre, Dark Elf Warrior, Kobold and Wyvern. In huge quantities on higher difficulties, these spawns can quickly tear through your defenses.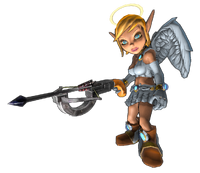 Completing this challenge on Hard unlocks the following costumes. Players must play the specific hero class on the final wave to unlock their respective costume.
Recommended Level: 60
Challenge Information

Number of Crystals
Number of Waves
11
Defense Units
Starting Mana
150
800
Hazards
Mana Per Round
Falling Off Ledges
N/A
Spawn List
Community content is available under
CC-BY-SA
unless otherwise noted.