PC Only Content
Information on this page is PC specific.

Holographic Decoy
is a
Series EV
skill. It projects a holographic replica of the Series EV that will attract and confuse enemies before detonating in their faces.
Use
The Holographic Decoy appears to be intended for temporarily averting the enemy attention, and exploding within the resulting cluster of enemy ground units.
Leveling and Costs
Investing stat points into Holographic Decoy will increase the projected decoy's lifespan. The ability always costs 100 mana to use.
Notes
Media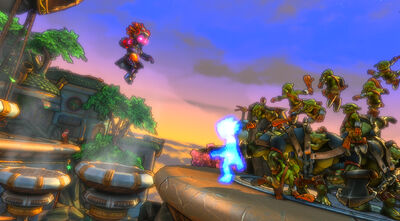 Community content is available under
CC-BY-SA
unless otherwise noted.