PC Only Content
Information on this page is PC specific.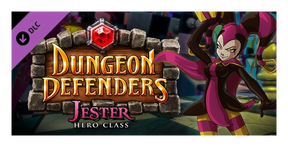 The
Jester Hero DLC
is
downloadable content
that was released for the PC at August 8, 2012.
It is now priced at $3.99 USD (not including sales).[1]
There are no future plans for a console release.
Contents
It contains a the new Jester hero class, Etherian Gameland map, 4 new weapons and The Fool Costume.
Media
Community content is available under
CC-BY-SA
unless otherwise noted.