PC Only Content
Information on this page is PC specific.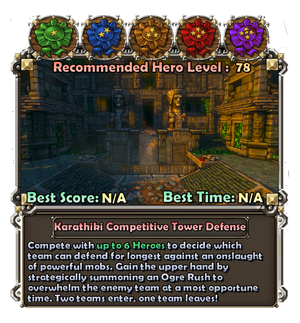 The
Karathiki Competitive Tower Defense
challenge
is part of the
Karathiki Jungle Pack
DLC.
On this large jungle-themed map, players must defend each of the four crystals from several waves of enemies, marching towards the crystals from multiple directions.
Gameplay
Unlike the Karathiki Jungle campaign map, this challenge divides up to 6 players into two teams (red or blue). A pale tinted wall divides the map vertically down the center. Each team must defend their side of the map (composed of 2 crystals) against endless waves of progressively increasing enemies.
In order to introduce competitive variety, players may use Ogre Rush Tokens to spawn a set amount of Ogres on the opposing team's side. The number of spawned ogres starts at 2 for the first wave, and increases by 1 for each progressive wave.
Recommended Level: 60
Challenge Information

Number of Crystals
Number of Waves
∞
Defense Units
Starting Mana
80
600
Hazards
Mana Per Round
Spikes
Falling Off Ledges
300
Spawn List

Rewards
PC
Easy
Medium
Hard
Insane
Nightmare
No reward
No reward
No reward
No reward
No reward
Console
Easy
Medium
Hard
Insane
Nightmare
N/A
N/A
N/A
N/A
N/A
Community content is available under
CC-BY-SA
unless otherwise noted.