PC Only Content
Information on this page is PC specific.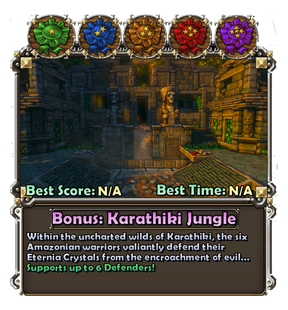 Karathiki Jungle is a 6-player map that was released on 24th March 2012, as part of the Karathiki Jungle Mission Pack DLC. The map is a very large jungle containing various ruins from the ancient Amazon Barbarian Tribe.
Gameplay
The bonus Lost Eternia Shards DLC campaign map has four Eternia Crystals far apart from one another to defend. Karathiki is symmetrical across the straight-line distance between the north- and south-end spawnpoints for ground enemies and Djinn. The map's layout and where enemies spawn mirrors west-to-east.
Players have 165 Defense Units and Minions Units to work with, averaging to effectively 41 DU and MU per core.
Waves
Karathiki's Campaign mission consists of 9 waves, ending at Wave 14. Survival Mode and Pure Strategy go up to Wave 35. Unless Mix Mode is enabled, the Ogres will only come out of the large central north door and the two shaded exits that are relatively close by.
On Nightmare, Goblin Copters spawn around all four corners of the entire map, plus high above the central north door. They will deploy their ogres on/at the closest choke point leading up to a core.
Rewards
Items
Players are awarded a random class weapon for completing the campaign DLC map. Harder difficulties also award a random pet. The quality of the item depends on the level difficulty.
Costumes
Completing the campaign DLC map on Medium or higher will unlock the Amazon Female Barbarian Costume.
Notes
The large size of the map is comparable to Lifestream Hollow.
When taking a more condensed defensive approach; where players opt to placing defenses in very close proximity to both sides of all four crystals, players effectively have only 18-19 DU to allocate to each of the eight enemy pathways.
Media
Map Details