PC Only Content
Information on this page is PC specific.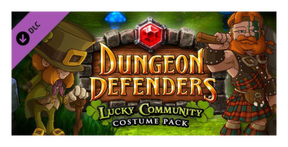 The Lucky Community Costume Pack was released with patch 7.22 on 16 March 2012. It contains four new community-voted player costumes:
As with all preceding holiday DLC, this content was initially released for free for a limited time.
Development
Prior to release, Trendy announced that the player community would get to choose both the hero classes and ultimately the costumes. Daily Facebook and Forum polls were opened on the 24th, 27th, 28th and 29th of February, 2012 for the Huntress, Adept, Apprentice and Barbarian respectively.
Our fans have chosen the Apprentice, Barbarian, Adept and Huntress to receive new costumes in the upcoming St. Patrick's Day DLC. Now, what about the costumes? Have an idea for a character costume? We're letting YOU choose the next four skins for our St. Patrick's Day PC DLC!
Not only that, we're letting you choose which four heroes will get the costumes, too!. Be sure to send in your ideas for character costumes.
--TE Community Manager [1]
History
PC
Community content is available under
CC-BY-SA
unless otherwise noted.