PC Only Content
Information on this page is PC specific.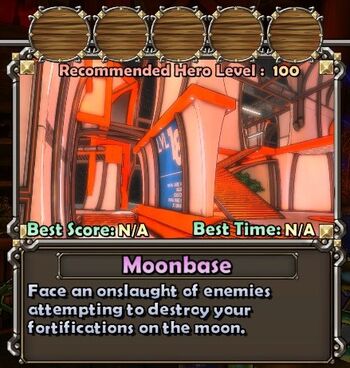 The
Moonbase
challenge
was released as part of
PC Patch 8.0
on 16 September 2015. As part of
PC Patch 8.2
on 4 August 2016, it was converted to a campaign map with
Survival Mode
added.
Rewards
Items
Players are awarded 6(?) Mythical weapons and items, along with 1 class weapon.
The Fish in a Bowl pet is awarded for touching the fish bowl and then completing the map (see Notes).
The Treadmill on a Treadmill pet is awarded for scoring exactly 42 points on the DDR minigame on nightmare, touching the fish bowl (not necessarily in that order), and then completing the map.
The Moon pet is awarded for completing the final wave (wave 35) of its Survival Mode.
Notes
To unlock the Fish in a Bowl, players must first locate and activate two buttons hidden in the map. One button is located on the ceiling of the northern edge of the map, and the other is located underneath some stairs on the western edge. Pressing both buttons unlocks a door next to the DDR minigame located at the south eastern corner of the map. Touching the fish bowl located through the doorway unlocks the pet upon completion of the map. To obtain the fish in the bowl pet, please follow the visual guide in the media section below.
Strategies
Dance Dance Revolution Minigame Strategies
Use characters with decent movement speed.
Hit the inside of the arrows. Standing on the outside of the arrows will often not register as a hit.
Mana will only be awarded once per wave and more mana is awarded for higher scores. The highest possible score is 190, which awards approximately 3500 mana. Therefore, it may be beneficial to aim for high scores to farm mana at the beginning of your moonbase run and try to get 42 once your defences are built and upgraded. To easily collect the mana, move your character to the very front of the DDR machine as soon as the DDR game is over.
To get a score of 42, select the blue difficulty and get a score of 65 without missing any, then miss one or more. Next, hit exactly one more arrow and allow the rest to miss.
Media
Map Details
Community content is available under
CC-BY-SA
unless otherwise noted.