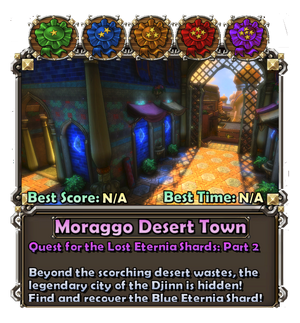 Moraggo Desert Town
is a map that was released on March 15th 2012, as part of the
Quest for the Lost Eternia Shards DLC - Part 2
.
Djinn spawn here on all difficulty levels. A Genie King boss is fought here during the final wave. Players can jump onto a flying carpet for fast travel across the large-sized map.
Eternia Shard
Defeating the King boss will allow players to retrieve the blue Eternia Shard. A trophy resembling one of the Genies lamps will appear in the player's tavern.
Retrieve all Lost Eternia Shards to unlock access to the Crystalline through a tavern portal.
Notes
Players can "Pet" the Donkeys on this map for extra mana once per round. They may also receive an item or have their hero healed.
The Donkey pet is rewarded for reaching wave 15 in Survival Mode.
Any console players looking for a working setup can look here: Morrago Desert Town Insane+ Build (Console)
On console if you try to host a online game of Morrago nobody will be able to join because it will give them the error called DunDefArabia. If you play Morrago online or try to join someone that played Morrago or is currently playing Morrago you will have to restart the game by dashboarding to fix the error.
Media
Map Details
Community content is available under
CC-BY-SA
unless otherwise noted.