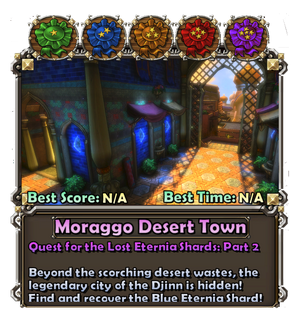 Moraggo Desert Town is a map that was released on March 15th 2012, as part of the Quest for the Lost Eternia Shards DLC - Part 2.
Djinn spawn here on all difficulty levels. A Genie King boss is fought here during the final wave. Players can jump onto a flying carpet for fast travel across the large-sized map.
Gameplay
...
Boss Fight
Main Article: Genie King
The Genie King hides in one of the many lamps scattered across the map. He always enters the lamp in front of the temple first. Players must rub the active lamp to release him, in order to attack him. The King will go back into hiding after losing a certain percentage of his health. Purple mist and a pinging sound are the team's cues to track down the boss.

Rewards
Weapons
On Insane or Higher
*On Ascension Campaign, a weapon from the Easy-Hard pool is also obtained.
Eternia Shard
Survival Pets
Notes
Media
See Also
The other shard maps.
Map Details