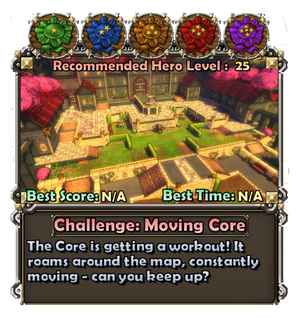 Moving Core is a Challenge located in the Royal Gardens.
The goal of the challenge is very similar to Warping Core, but instead of instantly and randomly warping, the Eternia Crystal slowly moves around the map through a pre-determined course, bringing it extremely close to several enemy spawn points.
Successfully completing this challenge on Insane or Nightmare rewards each player with the Quiescence.
Strategy
This challenge becomes a lot easier by placing defenses right in front of the enemy spawn points. Players have found the following strategies work well:
Recommended Level: 60
Challenge Information

Number of Crystals
Number of Waves
7
Defense Units
Starting Mana
130
500
Hazards
Mana Per Round
None
400
Spawn List
Community content is available under
CC-BY-SA
unless otherwise noted.