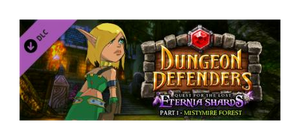 The
Quest for the Lost Eternia Shards
Part 1: Mistymire Forest
is
downloadable content
that was released on 15 December 2011.
It contains the Mistymire Forest campaign map, Portal Defense challenge, Lifestream Hollow Uber Monster Fest challenge, a new Spider enemy, and forest-themed costumes, weapons and items.
Promotional Description
Now that your Dungeon's been defended, prepare to venture outside into the realms of Etheria in The Quest for the Lost Eternia Shards! Explore the Mistymire forest to recover the Purple Eternia Shard, and experience 4 all new missions, story cinematics, enemies, and more!
-Steam[1]
Content
This DLC adds:
Each pack has 3 modes (Campaign, Challenge, PvP), 2 new maps, 12 new weapons, new pet, new cinematics, all new Bosses, and more! The PC version may come with some extra stuff pertaining to the PC content (i.e. a new Über Monster Fest or a costume).
New weapons and pets will be added into Console via patches (they cannot come with the DLC, as all users need them in order to not fragment online play) since they have completely different models, animations, effects, and vfx that were made post release.
Everyone on PC will be able to join in Nightmare games for maps they own. This is so the community isn't segmented.
Players will not be able to join into the Eternia Shards maps they don't own, since they do not have that content required.
Notes
The DLC was on sale for a limited time upon its PC release. It is priced (not including sales) at $3.99 USD on Steam.
Media
Community content is available under
CC-BY-SA
unless otherwise noted.