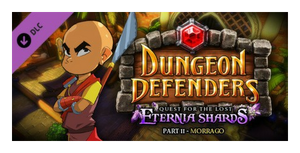 The
Quest for the Lost Eternia Shards
Part 2: Moraggo Desert Town
is
downloadable content
that was released for the PC on 16 March 2012 and for the PS3 on 10 April 2012 and 18 April for PSN EU and for Xbox 360 on 26 April.
It contains the Moraggo Desert Town campaign map, War of the Djinn challenge, Oasis Monster Fest challenge, Oasis PvP Battleground, a new Djinn enemy, and desert-themed costumes, weapons and items.
Promotional Description
Now that your Dungeon's been defended, prepare to venture outside into the realms of Etheria in The Quest for the Lost Eternia Shards! Explore the desert city of Moraggo and experience 3 all new missions, story cinematics, enemies, a whole new boss, and more!
-Steam[1]
Content
This DLC adds:
Notes
The DLC was on sale for a limited time upon its PC release. It is priced (not including sales) at $3.99 USD on Steam.
Trailer
Media
Community content is available under
CC-BY-SA
unless otherwise noted.