PC Only Content
Information on this page is PC specific.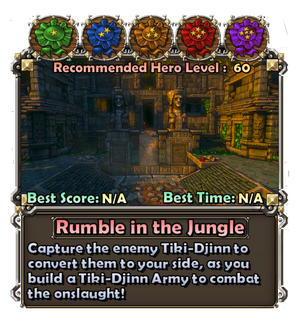 The
Rumble in the Jungle
challenge
is part of the
Karathiki Jungle Mission Pack
DLC.
Gameplay
On this large jungle-themed map, players must defend each of the four crystals from several waves of enemies, marching towards the crystals from multiple directions.
Recommended Level: 60
Challenge Information

Number of Crystals
Number of Waves
14
Defense Units
Starting Mana
155
1200
Hazards
Mana Per Round
Spikes
Falling Off Ledges
600
Spawn List