PC Only Content
Information on this page is PC specific.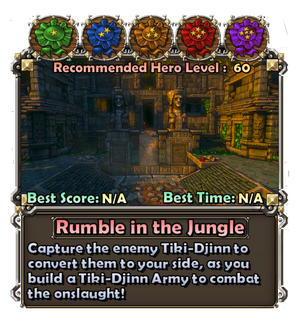 The
Rumble in the Jungle
challenge
is part of the
Quest for the Lost Eternia Shards - Part 2: Moraggo Desert Town
DLC.
The goal of the challenge is to win the allegiance of the Djinn.
Gameplay
Players must capture the enemy Djinn and convert them to their side to build a Djinn Army to combat the enemy waves.
Recommended Level: 60
Challenge Information

Number of Crystals
Number of Waves
14
Defense Units
Starting Mana
155
1200
Hazards
Mana Per Round
Spikes
Falling Off Ledges
600
Spawn List
Community content is available under
CC-BY-SA
unless otherwise noted.