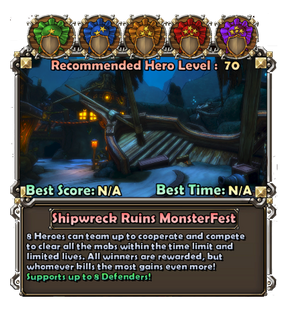 Shipwreck Ruins Monsterfest (SMF) is an 8-player challenge that takes place on the Shipwreck Ruins map. It is based on the Monster Fest Challenge.
This challenge was introduced to give everyone an option for obtaining high-end gear without spending six to eight hours in Survival. However, to beat SMF on Nightmare difficulty, Super Loot gear is needed from Survival or Mix Mode Survival.
Similar Challenges
​These are similar Uber Monster Fest challenges on different maps.
See Also
Challenge Details
Recommended Level: 70
Challenge Information

Number of Crystals
Number of Waves
N/A
14
Defense Units
Starting Mana
140
1600
Hazards
Mana Per Round
None
1600
Spawn List

Template:Map information/Enemy

Template:Map information/Enemy

Template:Map information/Enemy

Template:Map information/Enemy

Template:Map information/Enemy

Template:Map information/Enemy

Template:Map information/Enemy

Template:Map information/Enemy

Template:Map information/Enemy

Template:Map information/Enemy

Template:Map information/Enemy

Template:Map information/Enemy

Template:Map information/Reward

Template:Map information/Reward

Template:Map information/Reward

Template:Map information/Reward

Template:Map information/Reward

Template:Map information/Reward Console

Template:Map information/Reward Console

Template:Map information/Reward Console

Template:Map information/Reward Console

Template:Map information/Reward Console

Rewards
PC
Easy
Medium
Hard
Insane
Nightmare
Console
Easy
Medium
Hard
Insane
Nightmare