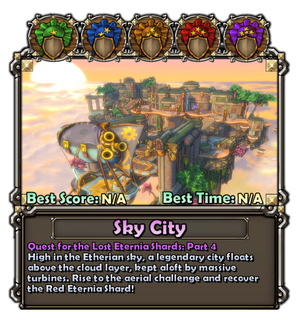 The
Sky City
is the location of the fourth and last part of the
Quest for the Lost Eternia Shards
series, the
Part 4: Sky City
DLC.
It is a large aerial map surrounded by giant clouds and floating islands.
The city is divided into four sections — a large central area; a small, isolated area to the north; a medium-sized area to the east; and a small area to the south. A bridge connects the southern and eastern areas. Several jump pads provide easy access between areas, and you'll need them to reach the northern area. Red colored disposal chutes instantly plummet heroes to their death.
Enemies spawn from the central area to attack the Eternia Crystals on the north, east and south sections.
Rewards
Costumes
Eternia Shard
Notes
The city features several air lifts (similar to Frostdale), and Goblin Copters which air lift ogres over player defenses.
Yellow colored air lifts spawn around the edges of the map during the boss wave. Players can utilise these to board the deck of the Goblin Battlecruiser.
Catarang can be found on the map as well. They behave like the Shroomite NPCs.
Trivia
Usage Guide
Media
Community content is available under
CC-BY-SA
unless otherwise noted.