PC Only Content
Information on this page is PC specific.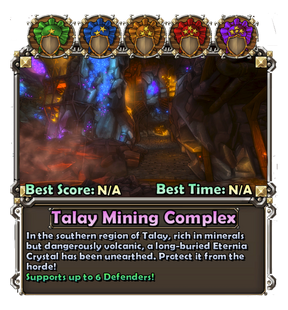 The
Talay Mining Complex
map was released on 31 May 2012, as part of the
Talay Mining Complex Mission Pack
DLC. The map is a deep, underground mining complex rich in
Eternia Crystals
but constantly plagued by its dangerous volcanic activity.
Gameplay
This bonus campaign mission features multiple air lifts to allow players to transport between the map's multi-tiered stages.
Rewards
Items
Players are awarded 4 random items (Weapons, Armor or Familiars) for completing the map. The quality of the items depend on the level difficulty.
Costumes
Completing the map on medium or higher will unlock the Demoness Costume for Summoner.
See also
The following challenges take place on this map:
Media
Map Details
Community content is available under
CC-BY-SA
unless otherwise noted.