PC Only Content
Information on this page is PC specific.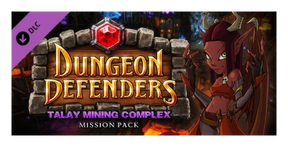 The Talay Mining Complex Mission Pack is downloadable content for the PC that was released on 31 May 2012.
It contains the Talay Mining Complex map and Volcanic Eruption challenge, a new pet, four new weapons, and a female Demoness Costume for the Summoner.
It was available on Steam for $1.49 for a week after its PC release. It is priced (not including sales) at $1.99 USD on Steam. There are no future plans for a console release.
Promotional Description
Among the sparkling gemstones of Talay, a set of long-buried Eternia Crystals have been unearthed. But the volcanic activity of the mine is rapidly rising and its imminent eruption threatens to destroy both friend and foe. Protect the Eternia Crystals from the horde as you contend with the dangers of the mine itself! In this southern region of Talay, rich in minerals but dangerously volcanic, a long-buried Eternia Crystal has been unearthed. Protect it from the horde!
-Steam[1]
Media