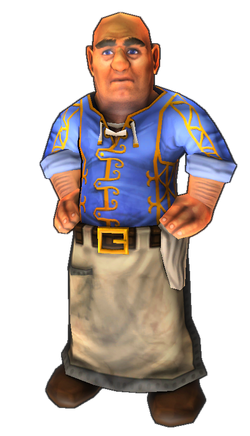 "I'm in your Tavern, selling your goods."
The Tavernkeep is a friendly fellow who sells Weapons, Armor, Familiars, and services to the heroes of Eternia.
PC/Console
The Tavernkeep is located behind the bar. The caged Familiars reflect the Familiars currently available in the Tavernkeep's shop, but the weapons and armor seen around him never change.
Mobile
The Tavernkeep became the new Defender's Forge with an added shop feature in version 4.2. At the Tavern, players are allowed to purchase mana for real currency.
Item Shop
Contains at most three pets, three armors, and three weapons at any given time.
The gear in the shop can be locked to be bought at any time later on.
Items vary in price and stats.
Items are restocked when the player completes a map.
The quality of items is proportional to the difficulty level and difficulty of the last map completed.
Survival mode restocks the item shop after every 5 rounds. (PC Only as of 7.11)
Failing a map does not restock the item shop.
Completing Hardcore Nightmare map (or 5 waves of Hardcore Survival) gives a chance for a high stat pet to appear in shop for only 10 mana, and/or pet with high upgrades and only one very high stat (rest stats with negatives) have a chance to appear in item shop for 310 mana.
Services
| Type | Description | Mana Cost |
| --- | --- | --- |
| XP Bonus | Gain 30% experience needed to reach the next level (10% if level 70 or higher) | 70,000 |
| Respec Hero | Reset stats to 0, gain appropriate stat points for current level | 100,000 |
| Rename Hero | Allows the player to change the current Hero's name | 50,000 |
| Create Mana token | Creates a Mana token | |
Purchasing Mana (Mobile only)
Note: This cannot be done in the PC, PS3, or Xbox versions of the game. This is possible only in the mobile version.
| Name | Description | Cost |
| --- | --- | --- |
| Medium Mana Bag | Adds 200,000 Mana to your Bank! | 0.99 |
| Large Mana Bag | Adds 500,000 Mana to your Bank! | 1.99 |
| Super Mana Bag | Adds 1,000,000 Mana to your Bank! | 2.99 |
Prices might subject to currency exchange rate. In some countries prices will be listed in the corresponding currency.
If the mana purchased would put your total above the maximum mana capacity of the bank, then the difference would be lost.
Community content is available under
CC-BY-SA
unless otherwise noted.