PC Only Content
Information on this page is PC specific.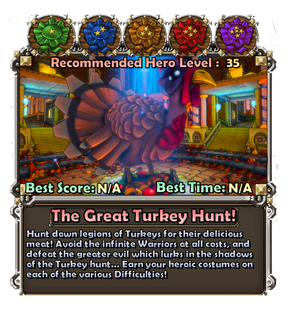 The Great Turkey Hunt! is part of The Great Turkey Hunt! Mission & Costumes DLC.
The goal of the challenge is to hunt and kill all the

Turkeys on the map within the time limit. Defending the Turkeys are Dark Elf Warriors dressed in Native American attire.
Gameplay
Waves
Unlike the original map, PVP is removed and is instead replaced by a sort of "hunting" game type. Players must hunt down Turkeys and kill a certain amount within a certain time limit, while fending off an infinite number of Dark Elf Warriors. Time differs depending on difficulty and the number of Turkeys differ as well. Even though PVP is removed, ranged PVP restrictions are still in place, meaning all projectile weapons have a much lower range than normal.
Boss Fight
The boss fight requires players to defeat the Mega Turkey boss.
Rewards
Costumes
Upon completion of this challenge, players are rewarded with new costumes
for the Main Heroes, depending on the difficulty level.
Note that completing the challenge on Insane unlocks all four costumes. (For example, doing the map on Hard will give the costumes for Easy and Medium as well.)
Media
Recommended Level: 35
Challenge Information

Number of Crystals
Number of Waves
N/A
N/A
Defense Units
Starting Mana
30
N/A
Hazards
Mana Per Round
None
N/A
Spawn List

Rewards
PC
Easy
Medium
Hard
Insane
Nightmare
No reward
No reward
No reward
No reward
No reward
Console
Easy
Medium
Hard
Insane
Nightmare
N/A
N/A
N/A
N/A
N/A

See Also
Community content is available under
CC-BY-SA
unless otherwise noted.