PC Only Content
Information on this page is PC specific.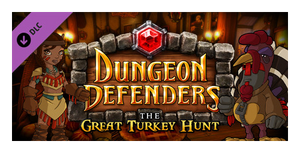 The Great Turkey Hunt! Mission & Costumes
is
downloadable content
for the PC that was released on 14th December, 2011.
It contains the The Great Turkey Hunt! challenge, with a Thanksgiving-themed set of weapons. It also includes four unlockable costumes for the original hero classes; the Turkey, Native Princess, Pilgrim and Conquistador.
Promotional Description
Celebrate your Thanksgiving in Etheria with 'The Great Turkey Hunt!' event on TrendyNet!
Hunt humongous herds of turkeys for their delicious Thanksgiving meat… but watch out! There are dangerous Dark Elf Warriors who will stop at nothing to protect the turkeys from harm and lurking in the shadows, the gigantic Boss "Mega Turkey" will prove an incredible test for even the mightiest group of Heroes!
If you prove victorious, you'll unlock a brand new set of holiday Costumes for your Heroes. So Give Thanks and get those Turkeys!
-Steam[1]
Notes
The DLC was on sale for a limited time upon its PC release. It is priced (not including sales) at $1.99 USD on Steam.
Media
Community content is available under
CC-BY-SA
unless otherwise noted.