PC Only Content
Information on this page is PC specific.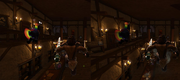 The Barbarian's Tornado Stance costs 10 mana to activate and continues to drain mana at an increasing rate over time. Tornado Stance is unlocked upon reaching level 10.
Upon activation, a tornado forms on the Barbarian and while the stance is active, these changes are made:
Barbarian's moving and attack speeds are increased
Increased jump height
Increased knockback from weapons
Lowered weapon damage by half
Small tornadoes also form around the Barbarian's legs, but they are purely cosmetic.
History
PC
Community content is available under
CC-BY-SA
unless otherwise noted.