PC Only Content
Information on this page is PC specific.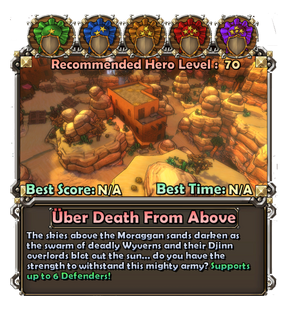 Uber Death From Above is a challenge that takes place on the City in the Cliffs map which supports 6-player cooperative play.

.
It is based off the original Death From Above challenge.
Gameplay
Similar to the original Death From Above challenge on The Ramparts, 3 Eternia Crystals must be defended against Wyverns of varying sizes, from mini to super, and Ogres. Djinn and Goblin Copters spawn too. The larger a Wyvern is, the slower and bulkier it is.
Rewards
Sandstorm (Staff)
Sandstone Sledge
Magic Lamp
or Rug Beater
Notes/Tips
Some Wyverns have a tendency to get stuck flying in circles, dragging out the waves. Deadly Striker pets or wheeling Sword-Sword-Crystal can help take them out sooner.
Similar Challenges
Map Details & Rewards
Recommended Level: 70
Challenge Information

Number of Crystals
Number of Waves
14
Defense Units
Starting Mana
125
1600
Hazards
Mana Per Round
Falling Off Ledges
1600
Spawn List

Template:Map information/Enemy

Template:Map information/Enemy

Template:Map information/Enemy

Template:Map information/Enemy

Template:Map information/Enemy

Template:Map information/Enemy

Template:Map information/Enemy

Template:Map information/Enemy

Template:Map information/Enemy

Template:Map information/Enemy

Template:Map information/Enemy

Template:Map information/Enemy

Template:Map information/Reward

Template:Map information/Reward

Template:Map information/Reward

Template:Map information/Reward

Template:Map information/Reward

Template:Map information/Reward Console

Template:Map information/Reward Console

Template:Map information/Reward Console

Template:Map information/Reward Console

Template:Map information/Reward Console

Rewards
PC
Easy
Medium
Hard
Insane
Nightmare
Console
Easy
Medium
Hard
Insane
Nightmare