PC Only Content
Information on this page is PC specific.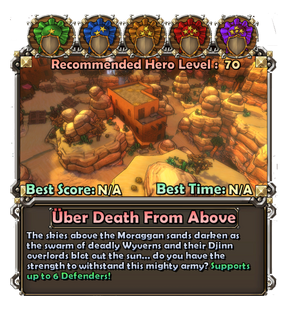 Uber Death From Above is a challenge that takes place on the City in the Cliffs map. It is based off the original Death From Above challenge.
Unlike the original, this challenge allows for 6-player cooperative play.

Gameplay
Similar to the original Death From Above challenge on The Ramparts, 3 Eternia Crystals must be defended against Wyverns, Mini-Wyverns, Large Wyverns, Super-Wyverns, Ogres and the Djinn . The larger in size the wyvern is, the more slowly it moves towards the crystals.
Similar Challenges
Map Details & Rewards
Community content is available under
CC-BY-SA
unless otherwise noted.