PC Only Content
Information on this page is PC specific.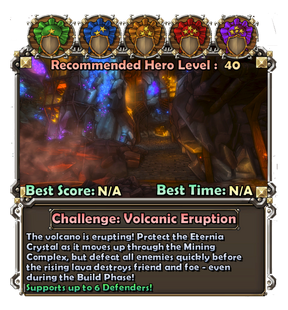 Volcanic Eruption
is a
challenge
that takes place on the
Talay Mining Complex
map.
Similar to the Riddle of the Deep, players must quickly defeat all the enemies before the lava rises across the map while the crystal continues to move higher across the map. The lava kills players, hero defenses and enemies, and will also continue to rise even during the Build Phase.
The crystal begins at the bottom of the map and slowly moves along a path up toward the forge before stopping. It moves faster during combat phases than build phases. The lava will not stop even once the crystal has reached its destination.
Rewards
Players are awarded a specific class weapon for completing the challenge (see below). The quality of the item depends on the level difficulty.
Challenge Details
Recommended Level: 40
Challenge Information

Number of Crystals
Number of Waves
14
Defense Units
Starting Mana
70
800
Hazards
Mana Per Round
Rising Lava
800
Spawn List
Community content is available under
CC-BY-SA
unless otherwise noted.